第十八届中国国际煤炭采矿技术交流及设备展览会于10月30日在京举办,萧爱(中国)总经理Scott Carlson、副总经理李云鹏、技术服务部经理于明、萧爱总部抑尘项目负责人Mark Walde,以及销售部、技术服务部、采购部、生产部等同事参加了本届展会。
The 18th China Coal & Mining Expo was held in Beijing on October 30. Managing Director Scott Carlson, Vice Managing Director Li Yunpeng, Technical Service Manager Yu Ming, Shaw Almex Dust suppression Project Manager Mark Walde, as well as colleagues from the sales department, the technical service department, the purchasing department, the production department attended this exhibitio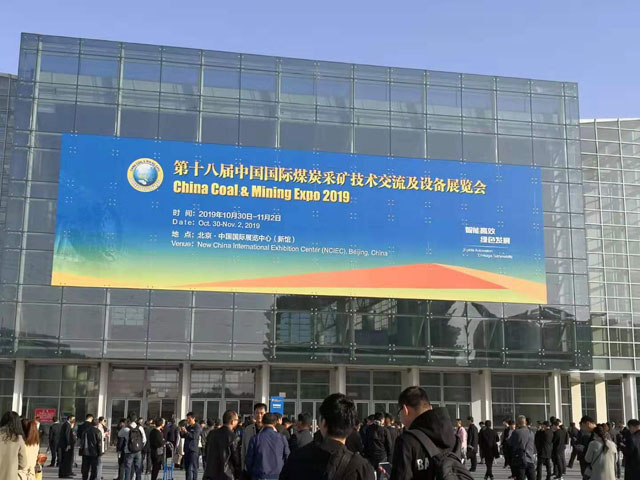 展馆掠影Picture of the Exhibition Hall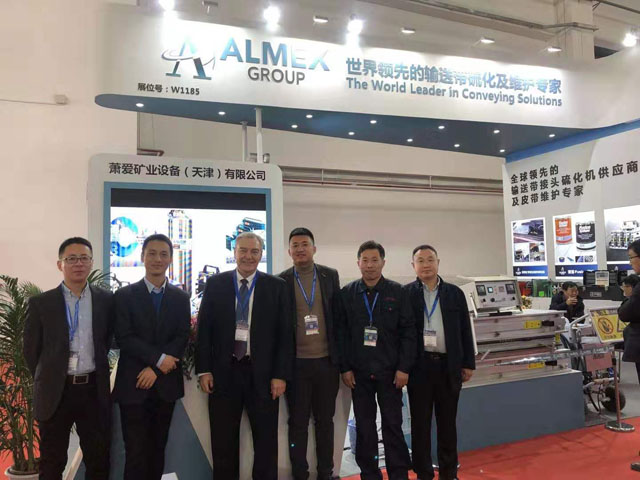 总经理和同事在展位前
Group photo of MD and colleagues in front of our booth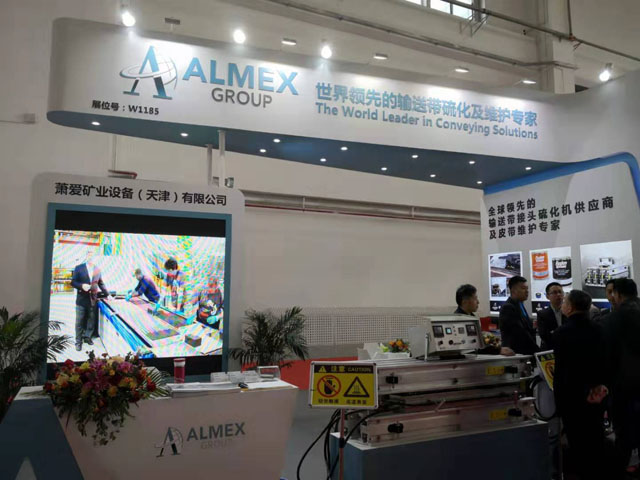 本届展会以"智能高效、绿色发展"为主题,煤矿智能化装备与技术是本届展会的热点之一,不仅有国内外煤机装备企业在智能化开采领域所研发的新技术、新装备,同时还有煤炭生产企业用户在智能化开采方面的成功展示。吸引了来自中国、美国、德国、英国及澳大利亚等19个国家和地区的600多家企业、厂商以及科研单位参展,展出规模近8万平方米。相较于上届展会,本届展会在参展商数量、参展规模、参观者质量上都有显著提升。
The banner theme of the 18th edition—"Enable automation, Envisage sustainability"—was evident throughout the exhibition. The Expo showcased the accomplishments of both manufacturers and users in adopting technologies that enable automation for solving the challenges of today and tomorrow. At this year's China Coal & Mining Expo, 600 companies and organizations from China and 19 other countries, including Australia, Germany, the UK and the US, staged the latest products and technologies across a show floor exceeding 80,000 sqm, total 6 exhibition halls.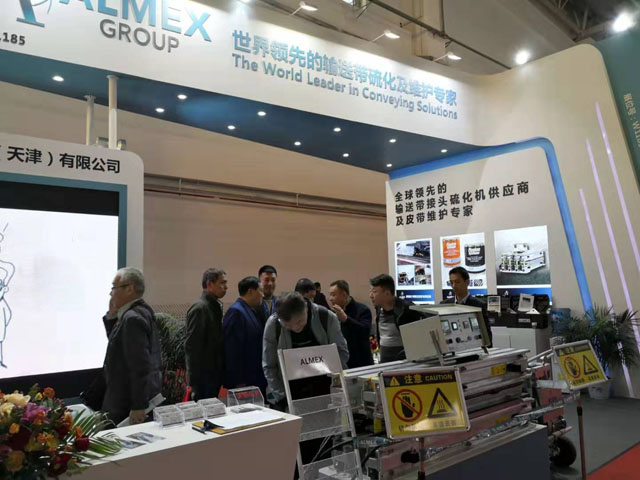 本届展会,萧爱展示了三大产品系列:硫化机、Fusion以及化学抑尘系统。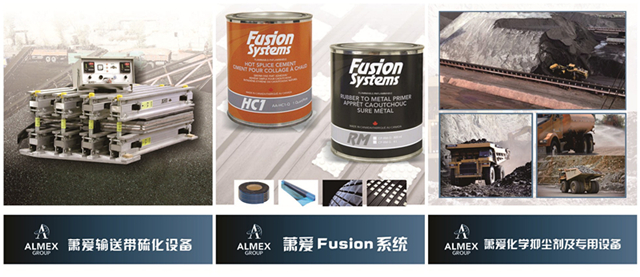 萧爱在此次展会上展出的三大产品系列
Poster for Three Product Lines in the exhibition

展会期间,公司领导、销售部同事以及技术服务部同事与多家公司的领导、技术人员均进行了亲切友好的会谈和交流,很多客户都表示希望能够在今后与我司继续加强沟通、深入合作。展会结束后,销售部同事进行积极走访和联络,为今后的深入合作打下基础。作为世界领先的输送带硫化及维护专家,萧爱一直秉持着与客户合作共赢的理念。在未来,我们将不断完善产品,为客户提供更全方位的技术和服务!

Compared with the previous exhibition in 2017, this exhibition has significantly improved in the number of exhibitors, the scale and the quality of visitors.
In this exhibition, Shaw Almex China displayed three major product lines: vulcanizers, Fusion products and chemical dust suppression system. During the exhibition, company leaders, sales colleagues and technical service colleagues had cordial and friendly talks and exchanges with the leaders and technical personnel of a number of companies. Many customers have expressed the hope that they could continue to strengthen communication and in-depth cooperation with our company in the future. After the end of the exhibition, sales colleagues actively visited and contacted to lay the foundation for in-depth cooperation in the future. As the world's leading conveyor belt vulcanization and maintenance experts, Shaw Almex has been adhering to the concept of win-win cooperation with customers. In the future, we will continue to improve products and to provide customers with a more comprehensive range of technology and services!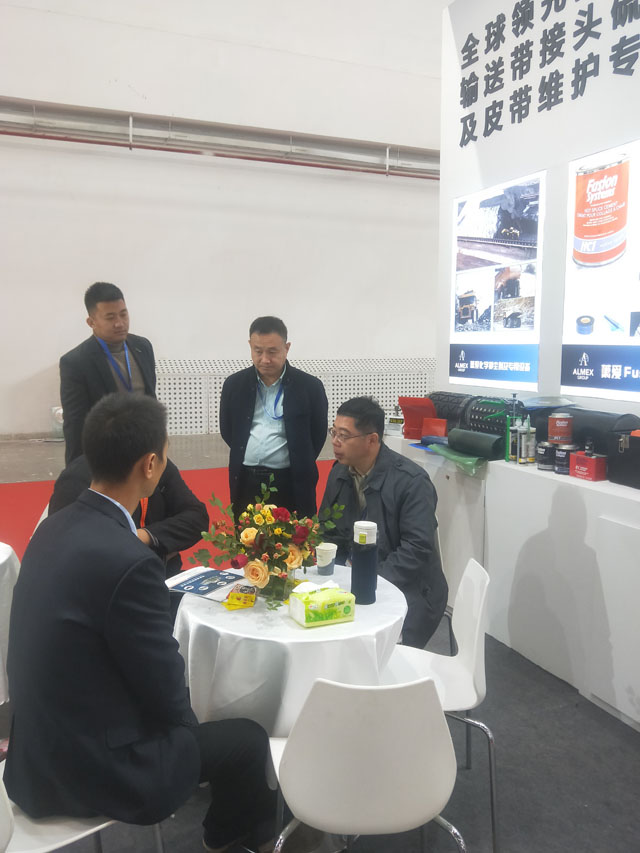 技术经理和销售在为客户解答问题
Technical Manager were answering the questions from the visitors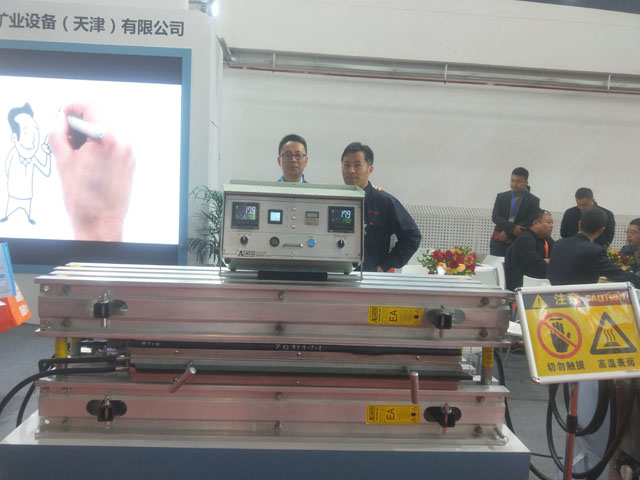 萧爱硫化机在展会期间受到很多关注
Our SVP attracted lots of attention in the show